Press Coverage
What do they do all day?
Pixel Artworks' Laurie Lumley explains Tech Consulting

What does an agency technology consultant actually do? As Laurie Lumley of Pixel Artworks explains, it means a front-of-house seat at the cutting edge of immersive experiences and out-of-home display.
Our sector sits in the middle of a lot of different industries. We take from cinema, TV, digital – all over. We did a mixed-reality experience project at London's Outernet recently, which is the largest digital exhibition space in Europe and one of the largest LED screens in the world. We've done a few projects there, but The Butterfly Trail was its first mixed-reality experience where the user plays an AR game on their mobiles where you launch nectar at a chrysalis and trigger animations. There's hand-tracking technology involved too. Depending on your score, you can interact with this immersive installation and trigger different animations on the screen. We were working on it for a long time – it was a milestone for us. When we launched it, I saw all these kids watching – and then it cut for an ad break – and they moaned! Creating an experience, a special moment for someone: that's why people work in the arts in general.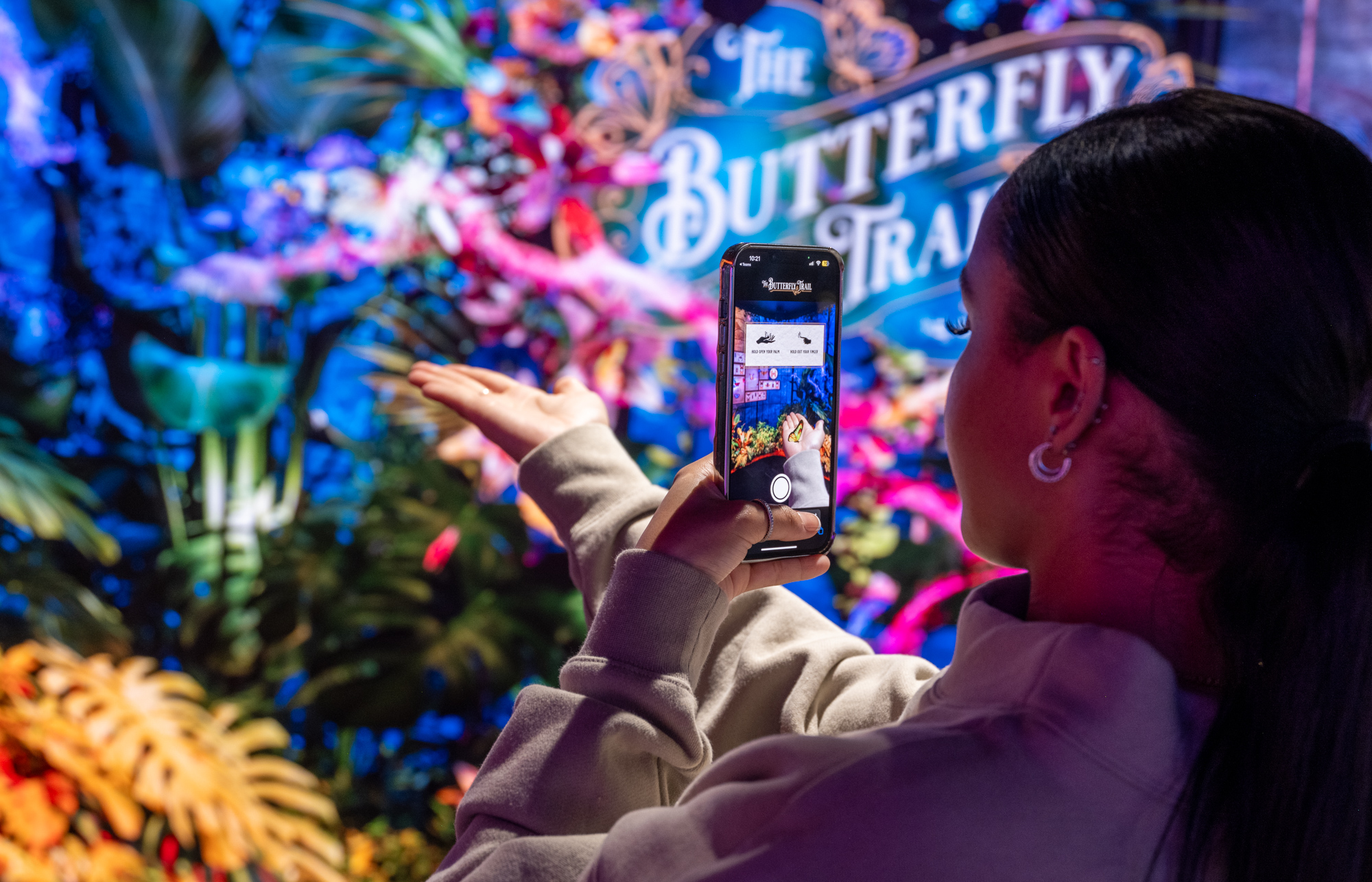 We work closely with both the creatives and the production team to advise them on what technology best applies to each project. We'll choose a technical and creative solution for each job depending on what the client wants, consumer needs and the environment we're working in. We also design creative workflows. So, for each project, we'll see our budget and where it is and then start talking to the production team. Each project gets a custom technical design. We have some retained clients, but most of our work is project-based. Usually, we work on multiple projects. That might mean making canvases. Sometimes, I'll support the sales team at the very initial stages; they'll come up with an idea, and I'll look at it and say: 'I think roughly we need this much time, with this person, to do this.' If client services need extra insight on something, or they want one of us to talk about a specific piece of tech, we'll talk directly to clients. Or I might be working with freelancers on specific asks.
I run a lot of workshops. They're really for playing with new tools, trying to understand the latest tech in the industry and how we can integrate that into our workflows. If something new comes out, it's my job to play with it and see how we can fit it into the current way we work.
We'll get staffers from the studio and try to make a tool accessible to them; a creative might not need to know the complete back end of how a tool works, but we can get it ready to present to them in a way that is fun and that allows them to play about with it. And then they can come up with some cool ideas.
I go out to project sites, too. That might be a client's premises or another venue. That might mean testing things, building installation routes, or just helping to set things up. In my first tech lead role, about two years ago, we painted a Nissan Formula E car with electroluminescent paint, and we ran different signals through it to create different patterns and animations over the car. I used to spend more time going on site, building installations, but I think it's really important to carry on going in.
I'm personally attached to Outernet because [Pixel Artworks] made the tech specs. We want to do more immersive work in the future, but what I liked about this was that it was free. You could take your family to see it – especially with London so expensive; it's nice that people can just wander in and out and play with it for as long as they want.