Originals
Art, culture & purpose driven experiences available to license globally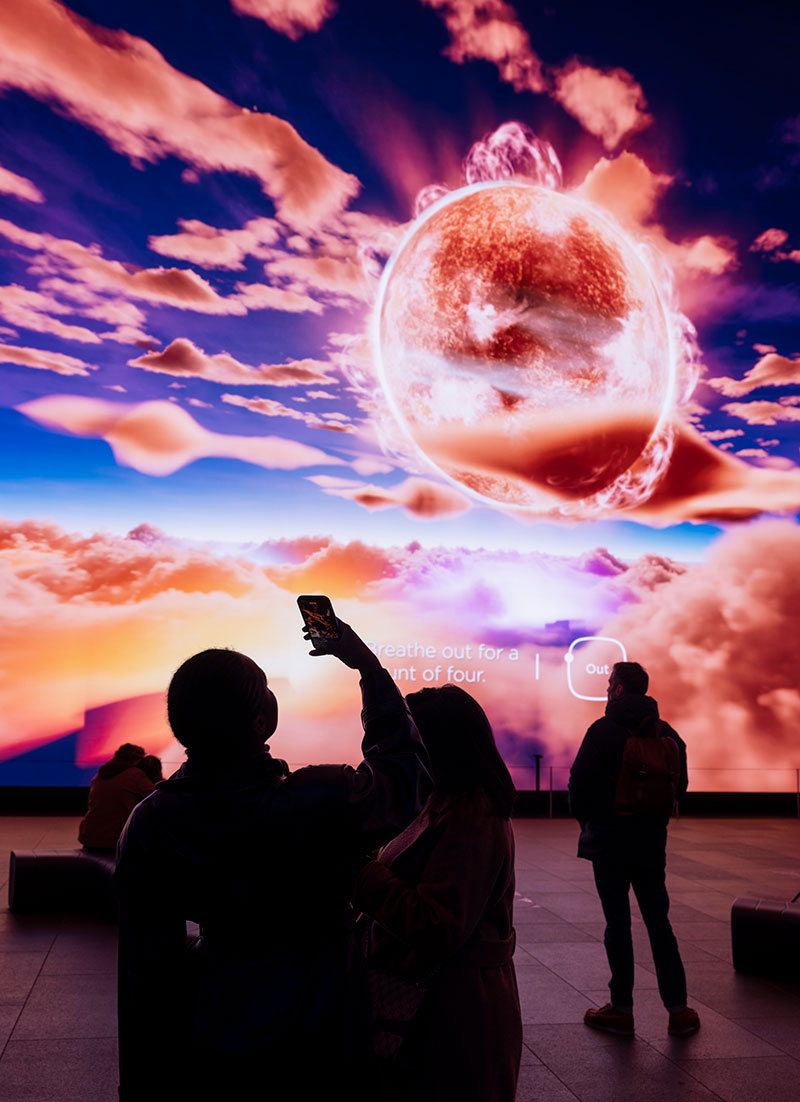 Transport audiences with our Originals – innovative immersive experiences designed to calm, de-stress and invigorate. We create imagined universes through vast artworks and spaces, where visitors might just find a new state of mind.
Wellness
Experiences which improve well-being with scientific, multi-sensory journeys.
In the decade to 2017, the WHO identified a 13% increase in mental health conditions, while in a survey by McKinsey, one in three said their emotional wellness had deteriorated since the start of the COVID-1 pandemic.
The price of all this isn't just human – depression and anxiety cost the global economy US$1 trillion a year. Although altruism may be reason enough to tackle this growing problem, there is also an opportunity here for organisations to push their business and reputation forward.
Wellness
Room to Breathe
Give your audience Room to Breathe, with our immersive experience designed to reduce stress and anxiety.
The mindfulness experience combines the proven benefits of the box breathing technique with relaxing visuals and a soundscape by acclaimed wellness composer, Tom Middleton.
Built in Unreal Game Engine, Room to Breathe can be delivered in a variety of formats including 10 and 20-minute loops and a real-time experience.
We tested the 10-minute experience in lab conditions, using ESG brain monitoring, heart rate and stress temperature monitoring– and it works. 84% of our audience said 'Room to Breathe' helped them to relax and de-stress.


Collaborations
Experiences curated alongside world-renowned artists and designers.
When creating immersive experiences in real life, artists might find themselves working with a large-scale, digital venue for the first time – and that's not easy.
Pixel Artworks curate beautiful, collaborative Original experiences with artists from around the world. We provide the technical, workflow, interactive and rendering or realtime support needed to deliver at vast scale, before co-licensing the experiences around the world.
Collaborations
The Spaces In-Between
Imagine an all-encompassing digital artwork, where geometric shapes respond to your every move. That is what audiences can experience at The Spaces In-between – an interactive Original we created in collaboration with digital light artist, Rupert Newman.
Featuring three multi-sensory artworks, 'Tessellations', 'Transcendence' and 'A Step Beyond', The Spaces In-between takes audiences through an abstract digital universe designed to instil harmony and balance.

Features
Narrative-driven journeys, transporting to otherworldly mixed realities.
In our experience – the best immersive experiences follow a journey or tell a story. Features are developed with extended or infinite running times, for audiences who wish to deep-dive into these imagined universes for up-to or over twenty minutes.
These ambitious and visually stunning experiences transport viewers into other worldly vistas and wow with the use of ground breaking mixed reality and physical interactive interventions.
Features
The Butterfly Trail
Invite your audience to experience a world-first, mixed-reality adventure as they step into Professor Pelegrin's magnificent glasshouse and embark on a quest to discover his fantastical, magical butterflies.
Using only the browser on their smartphone, audiences can launch vials of magical nectar at the chrysalises to release the butterflies, trigger real-time animations within the content and hold rare digital butterflies in their hand. Made possible by creating a link between 8th Wall's web-based augmented reality platform and Epic Games Unreal Engine, The Butterfly Trail is the first of its kind.  It's an interactive escapade like no other.